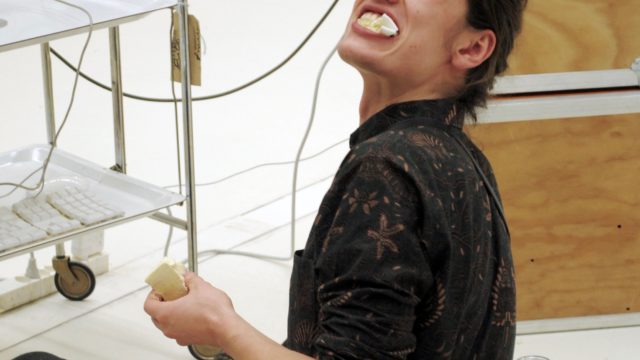 Cake Collaboration
Cake Collaboration
The cakes for the exhibition C#ke Stories were decorated in collaboration with students from all institutes
of the Academy of Art and Design Basel. Following our open call for designs, 11 selected students wee invited
to a workshop to translate their two-dimensional graphics into a three-dimensional cake surface, using only edible
materials. Classic cake decorating techniques were used in combination with more experimental approaches,
such as laser- and CNC cutting.
The selected students were:
Anja Bodenmann (Fashion), Martina Ettlin (Apprenticeship of Art&Design), Tina Friebel (Apprenticeship
of Art&Design), Simon Fürstenberger (HyperWerk), Matthias Krattenmacher (Interior Design and Scenography),
Luca Pfeiffer (Industrial Design), Julien Rondez (Visual Communication), Svenja Schennach (Fine Art), Franziska
Schüpbach (HyperWerk), Laura Tobler (Visual Communication), Davide Wouda (Fine Art)