Edible Words Panel Talk
Organised by Maud from Salty Studio, Giulia Soldati, Tanya Gohil and I explored the importance of food books
for our profession and private life. The panel talk was hosted online, allowing viewers to join from all over
the world and pose their questions face to face.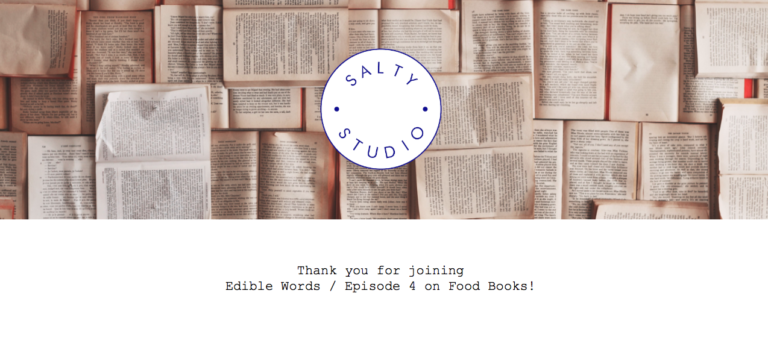 A little summary of the talk by Maud…
It's ok to have a brief look at a book and go back to it a few months later, with a different mindset you will most
probably discover something new!

By stacking a multitude of books we create a knowledge base to go to for research.

Reading can be like therapy for some, as we enter a meditative state, with full focus on the text and pages. It's a great
way to switch off from the digital world.

Reading & books can actually offer a nearly full sensory experience.

Some of us find it quite exciting to shop for cookbooks in second-hand stores, as we never know what kind of
treasure & stories we'll find.

Food books given as gifts can be quite interesting as it gives an insight into what people think of us and what we'll like.

In some cultures, recipes are passed on verbally more than in books (Italian/Indian cultures here), or by watching
television shows. However, it shows the importance to record these traditional and family recipes when possible!
When in a bookshop, our panel of speakers explained that some first look at the aesthetics and design of books,
others look for traditional and old books ("they provide more joy!" said Tanya), Orlando also looks for books
depending on the likelihood of actually cooking from them and Giulia explained sometimes she doesn't go
straight to the cookbook section but rather to the anthropology department.
Some books that were mentioned:
You and I Eat the Same: On the Countless Ways Food and Cooking Connect Us to One Another
Rituals of Dinner by Margaret Visser
The Raw and the Cooked by Claude Lévi-Strauss
Food, Morals and Meaning by John Coveney
How to Eat, Nigella Lawson
Veggiestan: A Vegetable Lover's Tour of the Middle East by Sally Butcher
The Flavour Thesaurus by Niki Segnit
Eat My Words by Janet Theophano