Polycake No 2
Polycreative
A creative relationship between multiple people that goes beyond a single outcome.

As today's relationships, romantic and otherwise, are changing with the increased
visibility and information access through social media platforms, so too are collaborations.
This project proposes a rethinking of the term collaboration as a "creative relationship".
Viewing a collaboration as a creative relationship means consent, appreciation, curiosity
and dialogue can be shared under a new light.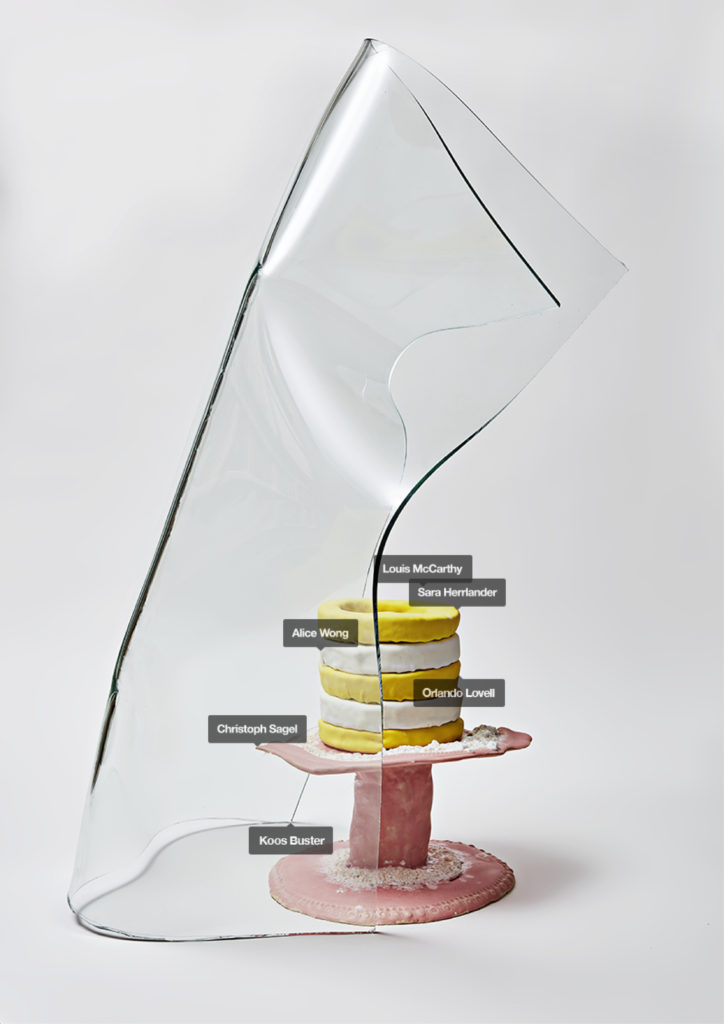 Polycake N°2
The story behind this cake stand is a very personal one. I have known the designer and
maker Koos Buster for four years now. I met him when he was one of my oldest friends'
boyfriend and sadly re- encountered him at her funeral now nearly two years ago.
Though we did not know each other well, we were united in grief for our friend and
loved one. As Koos Buster was graduating from Rietveld Academy with his unique and
outstanding ceramic works last summer, we joked about making cakes that looked like
his ceramic cleaning products, so when the idea for this project came along, I had no
doubt that he had to be one of the cake stand makers. He agreed immediately, even
though he was already inundated with work and new commissions. When he arrived
in Berlin from Amsterdam by car some weeks later, it was with the joyful news that he
is to be a father next year. He also brought a pink cake stand with foam glaze and a huge
asymmetric glass cover to go with it, I was taken by surprise but quickly fell in love with
the piece. My cake in response became a playful structure with layers of blue cake covered
in alternative yellow and white fondant with a hole in the centre. I then passed on the
image of the cake and stand, along with the story above, to the secondary designer Alice
Wong, who devised and scripted a performative social practice, which I then organised,
directed and filmed in Berlin.
"After reading this story, I came up with a ritual to reconnect with a long-lost friend,
to honestly express what has been hanging around in our minds – it's time to let it out.
You must call a long-lost friend and share a memory the two of you have. I think this can
be challenging, but I think it's a healthy dose of challenge that deserves a little celebration
with the lovely comfort of cake. I see the glass table as a telephone booth, to give a little
shelter, a little privacy for the person who will be talking on the phone." – Alice Wong
Cake Stand
Koos Buster
Cake
Orlando Lovell
Cake Photography
Christoph Sagel
Styling
Orlando Lovell
Ritual Design
Alice Wong
Ritual Cinematography
Sara Herrlander
Film Direction & Editing
Orlando Lovell
Ritual Performance
Louis Mccarthy