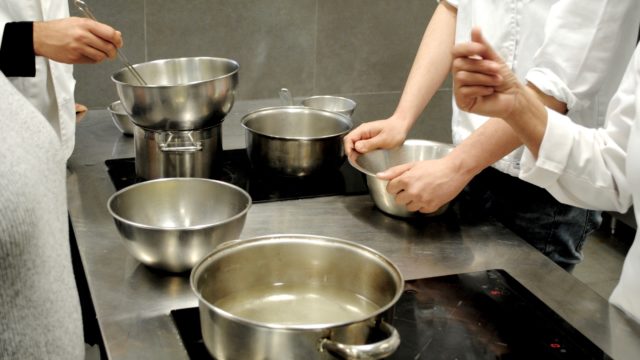 Counter Cookie Cutter Culture Workshop
Counter Cookie Cutter Culture Workshop
In preparation for the Counter Cookie Cutter Culture project for the Bienal da Maia, I worked with
a group of students from the cooking and pastry course at the Castêlo da Maia Secondary School.
In order to redesign the traditional biscuit of their city of Maia, in Portugal, they started by finding
shapes in their surroundings. By looking at architectural structures, details or landscape configura-
tions, they each developed a unique shape. These shapes were then turned into cookie cutters by
the craftsman João Latas in Lisbon and used by the students to make their own unique cookie.
To match their shape, each student came up with a one sentence story or anecdote to reveal their
personal connection. This was matched by a unique flavour combination, from vanilla & black sea salt
to mint & lemon, each student expressed their own story in shape, colour and flavour. Each student
hand wrote their own story onto wax paper which provided a protective and informative layer before
the cookies were packaged into individual packagings designed by Diana Portela.
Concept & Execution
Orlando Lovell
Curator
Vera Sacchetti
Project Partners
Castêlo da Maia Secondary School
Graphic Design
Diana Portela
Craftsman
João Latas
Photography
Orlando Lovell
Support
Goethe Institut Portugal