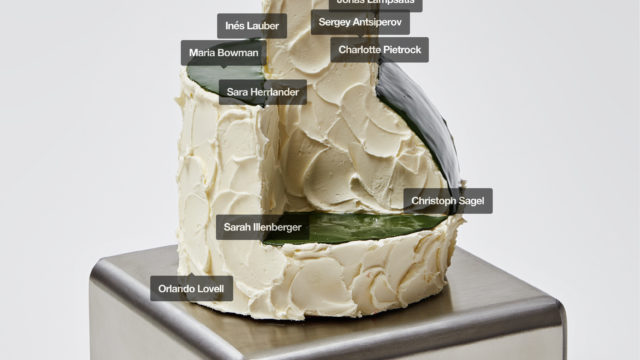 Polycake No 1
Polycreative
A creative relationship between multiple people that goes beyond a single outcome.

As today's relationships, romantic and otherwise, are changing with the increased
visibility and information access through social media platforms, so too are collaborations.
This project proposes a rethinking of the term collaboration as a "creative relationship".
Viewing a collaboration as a creative relationship means consent, appreciation, curiosity
and dialogue can be shared under a new light.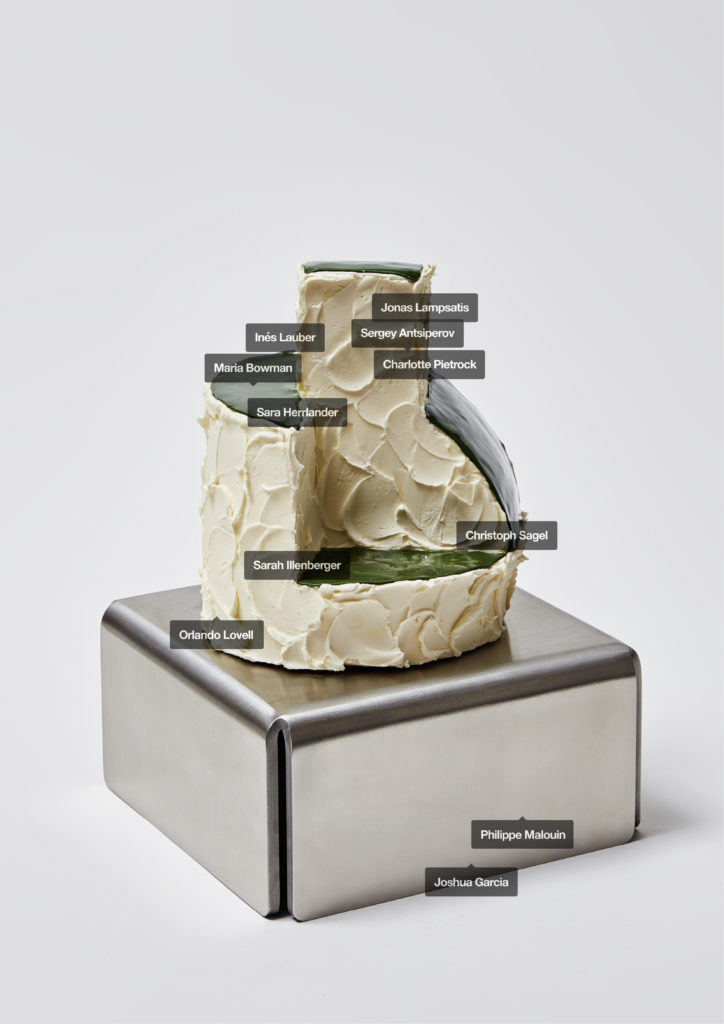 Polycake N°1
The story behind this stand is a classic one. I met the designer Philippe Malouin for the
first time at a design event in 2011. Each time we met again at different events, we connected
over design education and stories about the Design Academy Eindhoven, where he also
studied. We became Facebook friends. I have always enjoyed his posts about his work, but
also about his social life –  which seems to be full of people, parties and pleasure. When I asked
him if he would be interested in designing a cake stand for me, I expected a negative response,
but to my great surprise he agreed. His assistant Joshua Garcia sent me a full product pdf just
14 days after my first email. He explained to me that the 8mm thick folded stainless-steel design
was intended to be both monumental and minimal, to distract as little as possible from any
details the cake might have: a simple and clean supporting function. I made a multi-layered
and detailed cake to go with it. Its architectural forms and textures are a response to the monu-
mental pillar-like structure of the (exceptionally heavy) base. The pink lemon filling and sponge
inside was a happy surprise – much like Philippe's participation turned out to be for me. I then
passed on the image of the cake and stand, along with the story above, to the artist, illustrator
and designer, and another inspiration and mentor for me, Sarah Illenberger, who devised and
scripted a performative social practice, which I then organised, directed and filmed in Berlin.
"As the tent has an architectural feel for me, I would create a similar space to eat it inside.
Using rolls of frosted paper and sticks for the structure, I would create a beautiful round tent.
This tent would be set up in the countryside. Maybe next to my favourite oak tree. I would place
a disco light in the middle, some soft cushions to sit on and many blankets for comfort. I would
invite a handful of my best friends, hand them each a wooden spoon and have them eat it.
As coffee is vital for a cake like this, I would use a camp fire and espresso machine to make
some good coffee. This is perfect cake eating comfort zone to me." – Sarah Illenberger
Cake Stand
Philippe Malouin
Joshua Garcia
Cake
Orlando Lovell
Cake Photography
Christoph Sagel
Styling
Orlando Lovell
Ritual Design
Sarah Illenberger
Ritual Filming
Sara Herrlander
Film Direction & Editing
Orlando Lovell
Ritual Performance
Sergey Antsiperov
Maria Bowman
Jonas Lampsatis
Inés Lauber
Charlotte Pietrock