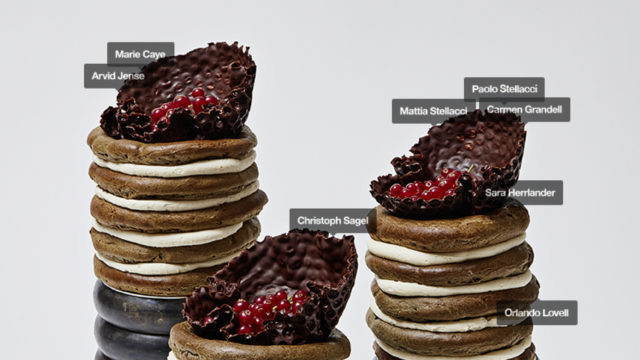 Polycake No 5
Polycreative
A creative relationship between multiple people that goes beyond a single outcome.

As today's relationships, romantic and otherwise, are changing with the increased
visibility and information access through social media platforms, so too are collaborations.
This project proposes a rethinking of the term collaboration as a "creative relationship".
Viewing a collaboration as a creative relationship means consent, appreciation, curiosity
and dialogue can be shared under a new light.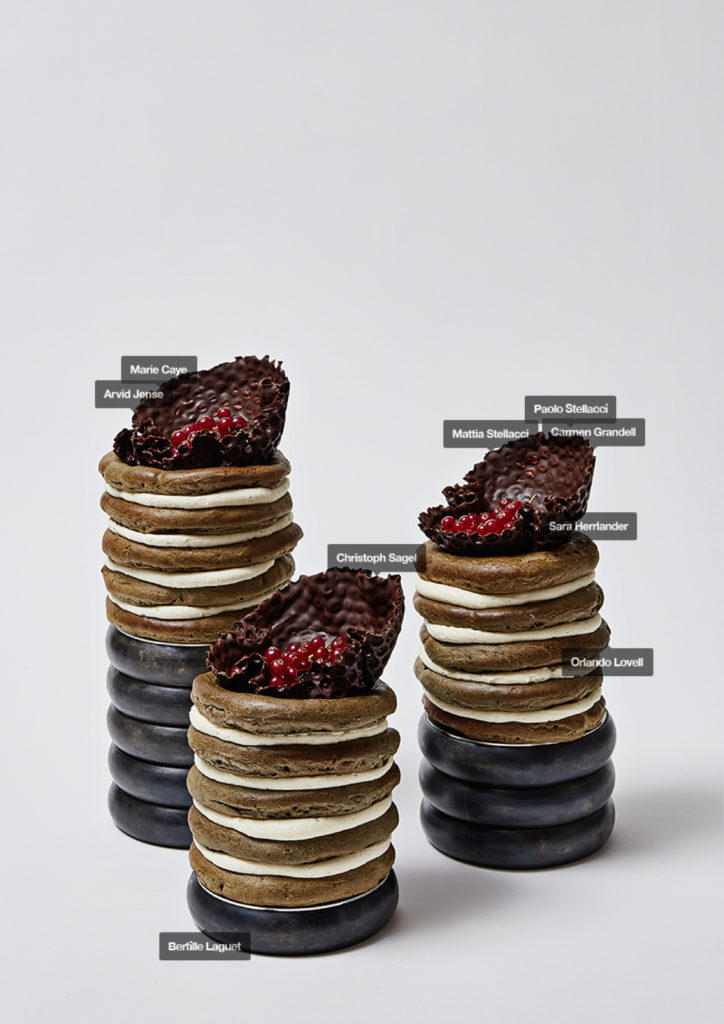 Polycake N°5
The story behind these cake stands is that I asked a friend for a recommendation for the
project. They gave me the name of the Swiss designer and blacksmith Bertille Laguet.
Like with a blind date, I checked her (work) out on the internet, and then just wrote to
her with no great expectations. To my surprise she replied and told me that her grandfather
was a pastry chef and her great-uncle was the White House pastry chef for 25 years. I was
stunned by the immediate connection and we both quickly became enthusiastic
about working together. The metal rounds of her triptych design were forged and hammered
by hand in a repetitive body motion. There are stainless-steel plates on the tops and bottoms,
for food hygene. Each stand is stamped with both our names on the base. We talked about
the cake mimicking the shape of the stand and I took a long time to find what I wanted to
make, because I felt a great desire to do the stands justice and ended up hand-piping rings
of coloured choux pastry. It took many tries to get them right and was the longest process
and the most technically difficult of all the cakes in this project. I then passed on the image
of the cakes and their stands, along with the story above, to the secondary designers Marie
Caye and Arvid Jense who devised and scripted a performative social practice, which I then
organised, directed and filmed in Berlin.
"We were inspired by the story of the stand designer who created the stand in repetitive motions.
We wanted to create a ritual around the idea of manufacture/mass production. Both the cake and
the stand are unique crafted objects can we standardize them? We tried to deconstruct the cake
in single bites to be eaten in rhythm." – Arvid&Marie
Cake Stand
Bertille Laguet
Cake
Orlando Lovell
Cake Photography
Christoph Sagel
Styling
Orlando Lovell
Ritual Design
Arvid & Marie 
Ritual Cinematography
Sara Herrlander
Film Direction & Editing
Orlando Lovell
Ritual Performance
Carmen Grandell
Mattia Stellacci
Paolo Stellacci